Email Merge in the Classroom
As a teacher of advanced high school students, I have such a different job than many of my peers in my building; but when I walk into my son's elementary school, I can not get over how different his teacher's day is from mine. I could never handle their job, and I would never want to try.
However, secretly, I have always been a little bit curious/envious of the behavior management/parent communication apps that are available for elementary school teachers. ClassDojo looks like such a cool tool that I have my fingers crossed that one of my son's teachers will use it so I can see what it is like.
While the technology part is impressive, the most potent part of technologies like ClassDojo is the communication home with parents. Proactive communication is one of the most powerful tools a teacher can use; I was slow to do it as a young teacher because I did not feel confident in calling home, so I avoided it. While I still don't call home, I want to show you how I communicate with students and parents every week, even though I don't get to use a cool app like ClassDojo.
Email
Email is a technological dinosaur, but it hangs around because, much like a great white shark, it is perfectly evolved to do its task. That task is to be a completely device/platform agnostic, free, and ubiquitous way to communicate electronically with any number of people.
One of the best things about using email is that it allows me to avoid another app, website, or technology sign up for the parents who I would be contacting. As cool as ClassDojo is, it only works when parents open the app. Conversely, everyone has email and checks it pretty regularly, almost certainly more frequently than they do a one-off app. There is also a reliable and recognized documentation process built into an email.
Having decided to use email, I looked into some of the email automation technology that I knew about in the business world like MailChimp and Aweber. However, I did not need the super elegant HTML emails they allowed me to make, and I wanted to avoid paying for anything.
Then I looked into the mail merge function built into Microsoft Office (my school's office productivity software vendor). In my experience, mail merge was for sending home physical letters from the main office, not email. I was wrong. Built right into Microsoft Word (for macOS or Windows) is the ability to mail merge emails. For almost two years, I have been sending a personalized email to every student and parent each Friday afternoon. The results have been powerful!
I could BCC the whole of my email list (which is a fantastic tool for staff-wide emails), but I like the mail merge option because it allows me to personalize each message, track each email individually, and avoid the spam filter that BCC emails sometimes get caught in.
How To Send Emails With Mail Merge
Contact List
The first thing to do is to create a contact list. I have students and parents complete a Google Form as part of the syllabus process that has their name and email, so I use these responses to make my mail merge list. I suggest you also use a form (either Microsoft or Google) to collect this information because a form will drop all of this info into a spreadsheet, which is what we need.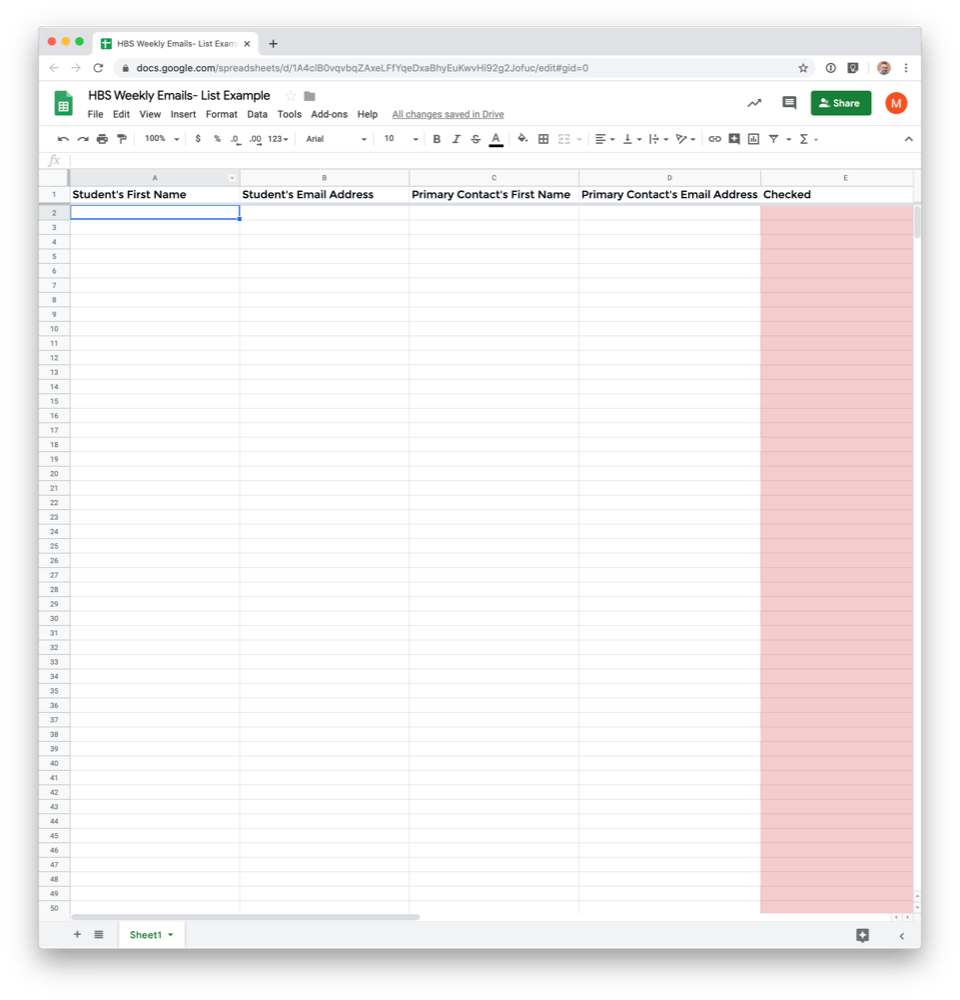 My spreadsheet only has four columns; I labeled them: Student First Name, Student Email, Parent First Name, Parent Email. You can name them whatever you want. However, your access during the mail merge process will functionally be limited to only the labels, so you want them to be descriptive.
Once you have the contact info in a spreadsheet, you can move on to the next step, writing your email.
Message Composition
Your email needs to end up in a Microsoft Word document, but fortunately, it does not need to start there. I do not like writing in Word, so I will write the content for the emails in a Google Doc or even in Drafts. No matter where I write the message, I keep the following things in mind:
Write gender-neutral (they, their, them)

I am thinking about adding some complexity to my process that would allow me to assign the specific pronouns, but gender-neutral is just easier.

Use text placeholders to make the mail merge easier

When I want to use the student's or parent's name in the email, I write "STUDENT NAME" or "PARENT NAME" in all caps so I can easily find them in Word when the time comes.

Follow good email conventions

I want to be the change I want to see in the world, at least related to email. So I make sure that I am concise, clear, and descriptive.

Use specific dates
Follow a template

I spend the first chunk of the email on what happened in the past week, the next chunk on where students are now, and the last chunk on where students should be by the next email.
Once you have your message written, you need to move your message into Microsoft Word and go through the mail merge process.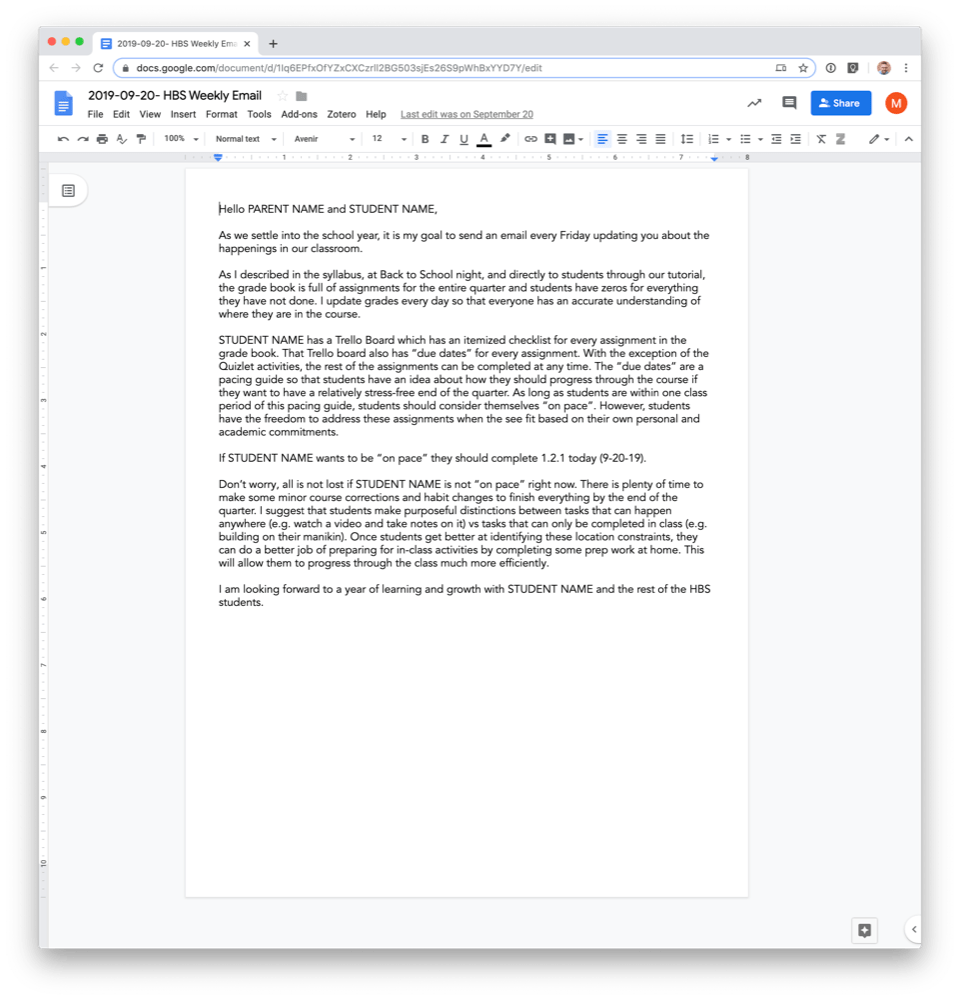 Mail Merge
Doing the mail merge process is clunky but not difficult. Follow the video below on the specifics of this process. If you used the placeholder text that I described above, you would need to highlight that text and insert the appropriate Merge Field in its place. Watch this video to see step by step process to complete the mail merge.

I hope this post and the video help you open up a powerful communication channel between your classroom and your student's homes. I promise it is worth your time!
If you are worried about what might come back in your direction, don't. I was surprised, but my emails from parents have gone down since I started this process. No more silly questions or angry blindsides, if anything, all I get is a happy thank you email or a supportive declaration ("I will make sure Timmy gets this done before Monday"). Worst case scenario, If something does go down, I have dozens of documented communications with the parent and the student to back me up.
https://www.themikeburke.com/wp-content/uploads/2019/12/075-Email-Merge-in-the-Classroom-TMB-Blog-Post-Featured-Image-2.0-Cropped-And-Compressed.jpg
905
1610
Mike
https://www.themikeburke.com/wp-content/uploads/2021/07/The-Mike-Burke-Square-Header.png
Mike
2019-12-26 09:20:48
2023-11-20 07:58:32
Email Merge in the Classroom