Resources to Make Your Student's Presentations Shine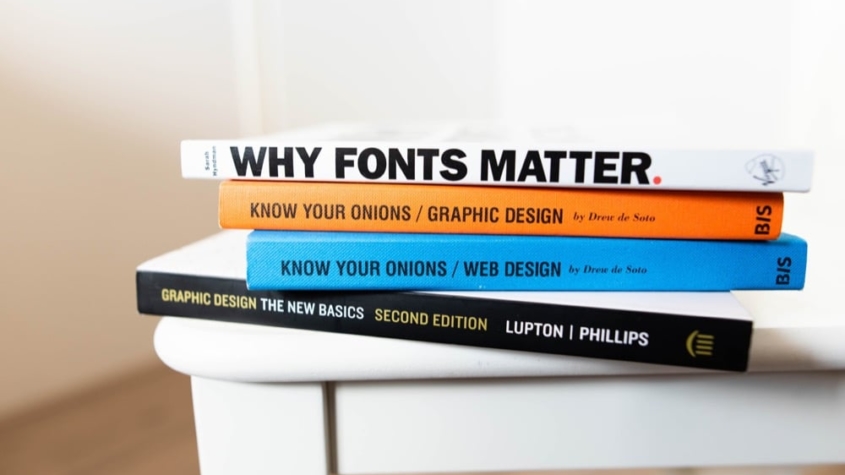 You might imagine that I would be a big fan of using novel presentation technologies like Prezi or FlowVella. I am… sometimes… but pretty rarely. Much more frequently I would prefer to use Google Slides or PowerPoint. I also think it is a better idea to teach students how to use these ubiquitous tools rather than have them rely on a flashy and/or proprietary format.
However, once they open up their slide creator of choice, my students instantly reach for a stock or prebuilt theme and then build all of their slides from one of the slide templates. I think this is the wrong way of going about it. In my class, I stress that students should start from blank slides and build exactly what they need.
These tools are what I use to make my own presentations and my students use them too.
Creative Commons Zero Images
Creative Commons Zero images are given away freely by the creator for anyone to use for any purpose, even commercially. You do not need to cite these images or give credit in any way. When I am building slides, this is where I start.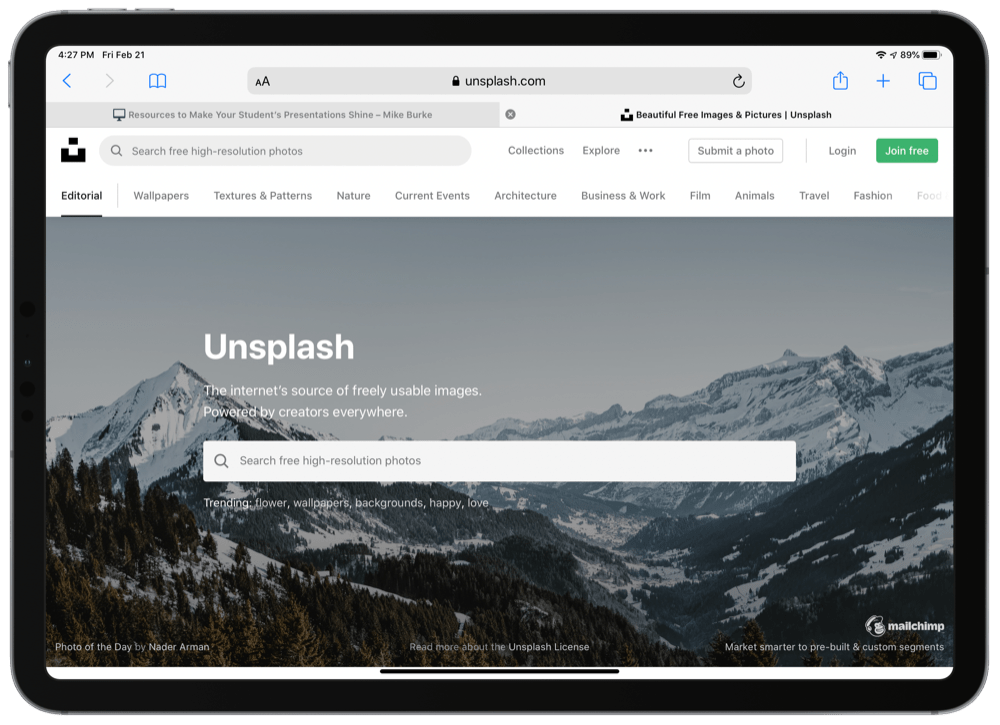 Unsplash I love Unsplash so much I became a contributor so I could give back. Unsplash is filled with beautiful, artistic, and high-resolution photographs. I can almost always find exactly what I need from this resource alone.
Pixabay is great, but it is my second stop (after Unsplash) when looking for photos. Pixabay's strongest feature is that they also have Creative Commons Zero video and vector art in addition to the photos.
Icons/Illustrations
Sometimes an icon or illustration better suits my presentation design, when that is the case, I go to these resources. Each of these sites offers graphics in Scaleable Vector Graphic (SVG) format, which means that these images don't get pixelated. You can make them as big as you want, and they will be crystal clear. You need specific software (Adobe Illustrator or Inkscape) to edit these files, but these are amazing tools. Two of these sites also allow you to download PNG files which are also lovely but can't scale like SVGs.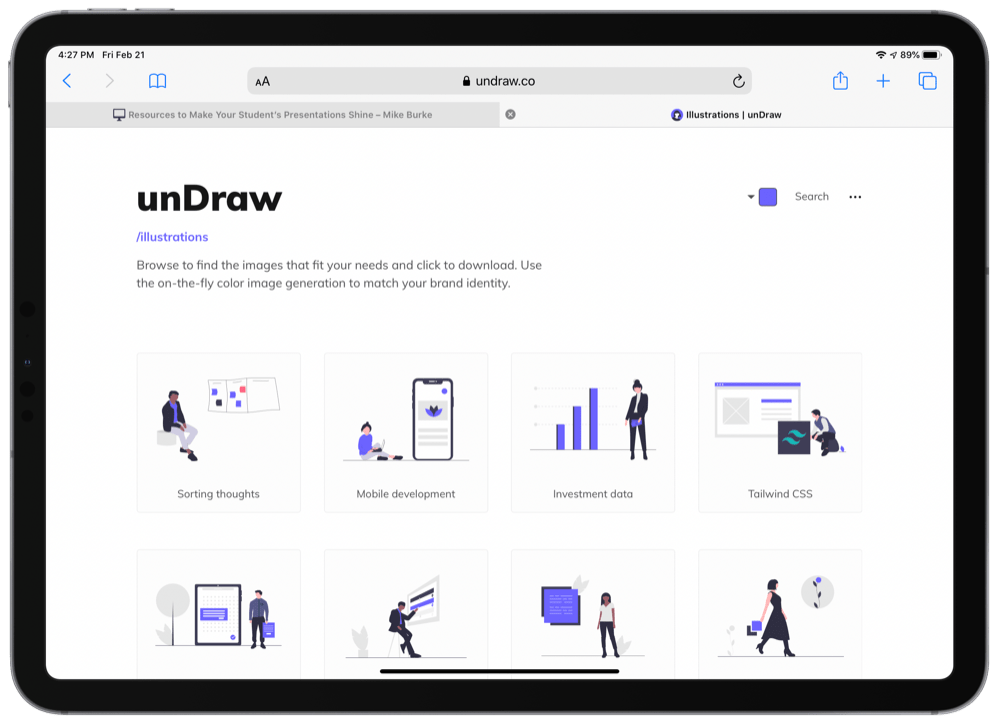 unDraw is another creative commons zero resource, but the magic of unDraw is that the whole library of illustrations can be color coordinated by using the custom color picker up in the menu bar.
Flat Icon is an excellent resource for finding… you guessed it… flat icons. Unlike so many other resources I have shared here, you need to either buy or give credit for these images. An easy price to pay for being able to download SVGs and PNGs from such a vast library of assets.
Simple Icons has a little bit of a narrow focus. This resource has SVG files of many business and product logos. They also have the official color code of each logo. My students find it helpful when they occasionally need to match the color of a visual to the official color of SnapChat, Twitter, etc.
Color Scheme Tools
A color palette for your presentation conveys a ton of meaning and significance to your presentation that you don't want to leave to a theme or random chance. These tools help you find a pleasing palate and give you HEX codes to boot!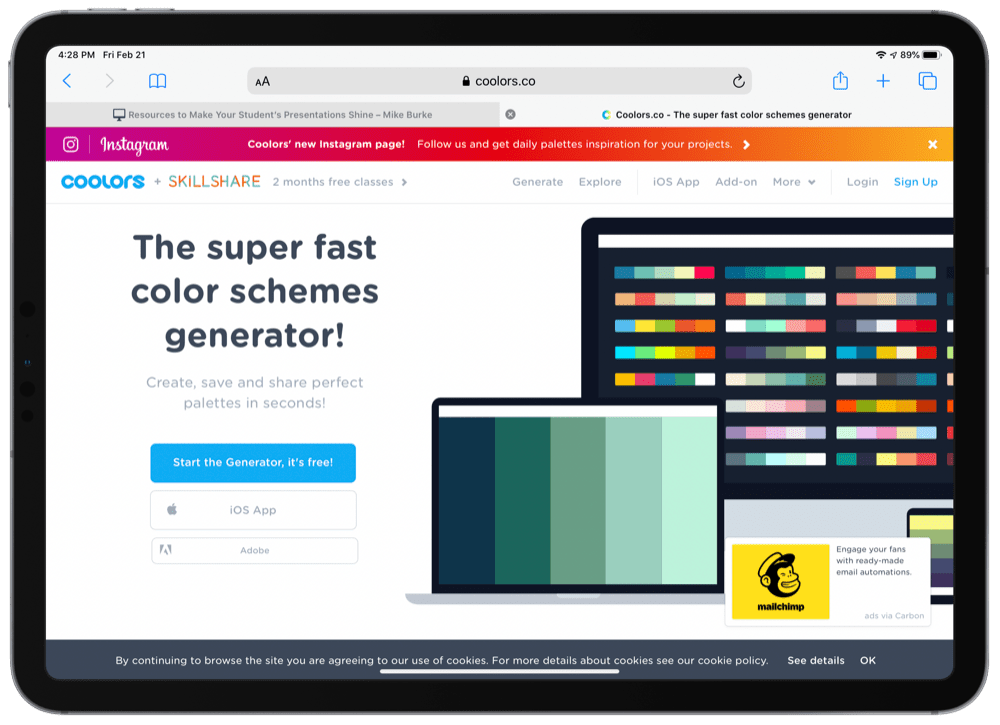 Coolors is a fun and interactive way to generate a color scheme for your presentation from scratch. You keep hitting the spacebar until you see a palate or color you like. You can lock in the colors you like and keep slapping the keyboard to get more colors that match your locked in ones. Students always make an "ahhh" type of noise when I show it the first time!
Adobe Color is the more formal/technical way of generating colors. They have several different methods of color theory you can pull from and you can get very specific with your choices. You can also upload an image and it will pull the colors from that image to create a custom color palette. This is certainly a professional tool.
Graphic Design Tools
I won't get into these too much but sometimes the slide you want to make should start in a piece of design software and get imported into your presentation as an image. I often do this for high stakes presentations where I want to guarantee a pixel-perfect presentation. I will use Adobe InDesign or Adobe Illustrator but they are part of an expensive subscription so I direct students to these resources if they want to do something similar.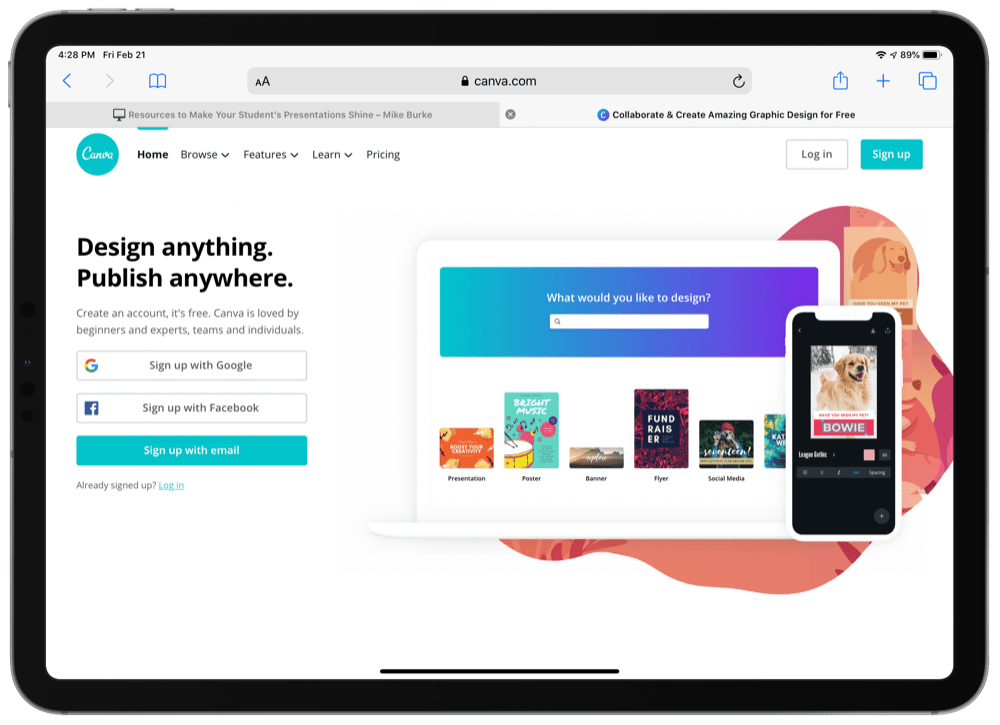 Canva often wins awards as the easiest to use graphic design software on the planet. They have presentation tools built in which I have used before but again, I try to avoid these types of presentation tools. Instead, I have used Canva to make visuals for slides or complete slides and then exported those graphics to Google Slides or PowerPoint.
Adobe Spark is Adobe's gateway drug to graphic design. I love using it as a tool for students to create artifacts for learning. For presentations, I direct students to the graphic (as opposed to web or video) portion of the software so they can make a 16:9 image to export to their presentation software of choice.
Fonts
Canva is more than a graphic design tool, they also publish a ton of informative content on their site. I always share this font paring tool from Canva with all of my students, and then I share this (very long) post from Canva about fonts with students who really get into this stuff.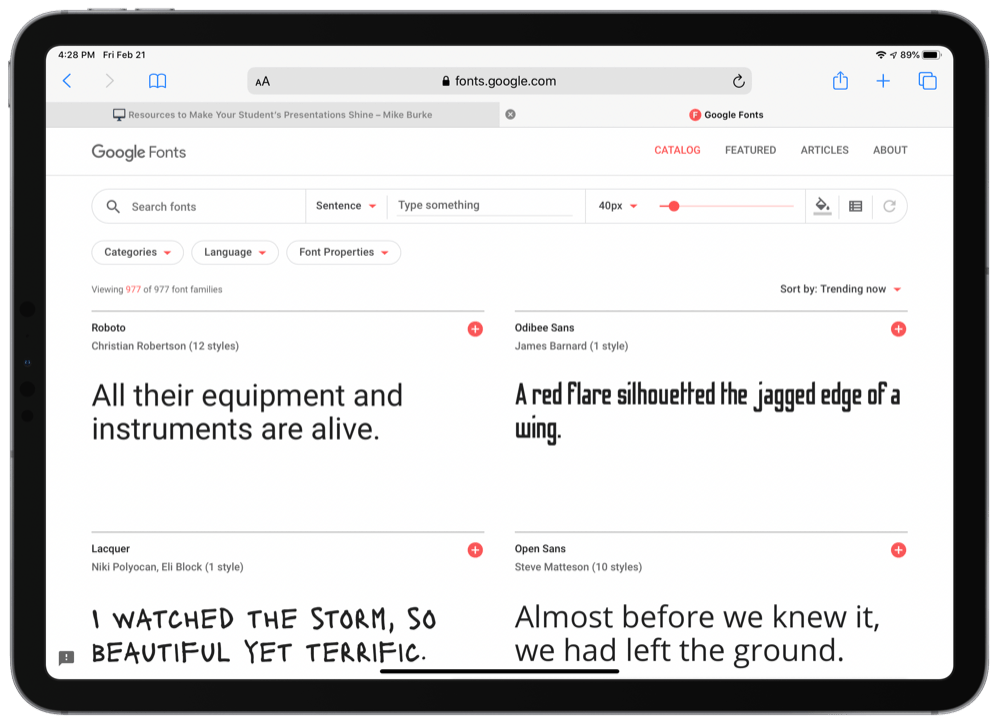 Google Fonts is a resource most people don't know about. This site lets you add tons of custom fonts to your Google Docs, Slides, or Sheets. You can also download some of them to your computer for use in Microsoft Office.
Conclusion
Presentations are an event in my classroom, and my students become presentation snobs. They can never unsee the characteristics of low effort presentations from their peers (or even other teachers in my building). This whole process helps them impress others and makes watching/grading presentations in my class a delight.
Share this page with your students to help them level up their presentation game and make presentations in your class a little more bearable.
https://www.themikeburke.com/wp-content/uploads/2019/09/061-Resources-To-Make-Your-Students-Presentations-Shine-TMB-Blog-Post-Featured-Image-Compressed.jpg
667
1000
Mike
https://www.themikeburke.com/wp-content/uploads/2021/07/The-Mike-Burke-Square-Header.png
Mike
2019-09-28 08:47:39
2022-02-10 14:33:09
Resources to Make Your Student's Presentations Shine